Welcome to the MS Weekly Lottery!
Our weekly lottery is a fun and exciting way to support the MS Society and to help stop MS for good. Sign up today and you'll have the chance each week to win a wonderful £10,000, or one of many other great prizes!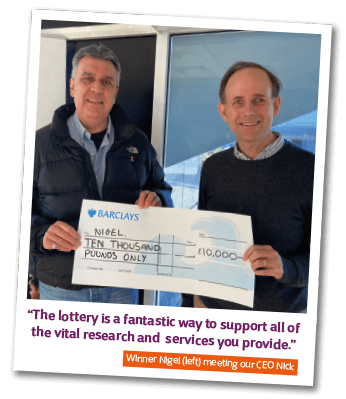 It's just £1 to enter the MS Weekly Lottery. Match three or more numbers and you'll win a cash prize between £5 and £1,000. If you match all six numbers, you'll win an incredible £10,000 just like Nigel.
You can play £1, £2 or £3 per week for more chances of winning. Simply click the "Enter now" button to join by Direct Debit and ensure you never miss a draw. There is no need to claim as we will write to you if you win and pay any winnings directly to your bank account – easy!
Change the future of MS, week by week
When you enter our Weekly Lottery, you'll be helping us to be there for people living with MS. By taking part you'll be helping to provide vital services like our MS Helpline. You'll also be supporting research into new treatments to eventually stop MS for good.
There has never been a more crucial time for MS research than today. Play our Weekly Lottery and help bring us closer to the next breakthrough week by week.
Thank you for your support – and good luck!